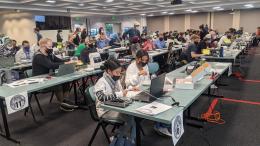 Casa Grande Union High School (CGUHS) News
Students and a faculty mentor from CGUHS were supported by the Arizona Space Grant Consortium to attend this workshop.
Photo Credit: John Morris
"CGUHS students, Ivanna Perez and Sophia Jorda, were selected to take part in a workshop that provided them with the skills and knowledge to design a scientific mission to the Moon. Over the next year, the students will collaborate with university students from around the world to not only develop their own spacecraft, but also to act as GLEE Ambassadors. GLEE (The Great Lunar Expedition for Everyone) is a mission to land 500 spacecraft, called "LunaSats," on the surface of the Moon in 2023. This mission is led by the Colorado Space Grant Consortium at the University of Colorado, Boulder, and currently supported by NASA's Artemis Student Challenges. Each participating university will design a local space mission for their spacecraft to carry out, as well as participate in a distributed project to characterize a larger area of the lunar surface. Both Ivanna and Sophia are excited to take part in a true scientific and technological demonstration project developed and managed by students for NASA. The data gained from this project will be made available to scientists from around the world. As GLEE Ambassadors, Ivanna and Sophia will provide remote technical assistance to 481 other teams as well as promote further exploration of the Moon. For more information, visit https://www.glee2023.org/."