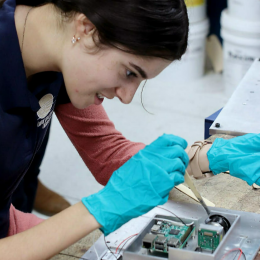 A new kind of inflatable space antenna developed by University of Arizona students and faculty is slated for launch aboard a NASA mission as soon as next year.
The antenna is part of the CatSat, one of 16 small research satellites from 10 states NASA recently picked to fly as auxiliary payloads aboard space missions planned to launch in 2020, 2021 and 2022.
The selections are part of the 10th round of NASA's CubeSat Launch Initiative, which offers spacecraft developers the chance to launch their inventions on spaceflight missions led by NASA, other U.S. government agencies or commercial groups, or deployments from the International Space Station.
Once launched into orbit, the satellites provide data for technology demonstrations, scientific research or education.
The CatSat is a CubeSat created by UA students from the Lunar and Planetary Laboratory and various departments including aerospace and mechanical engineering, astronomy, computer science, and systems and industrial engineering.
The inflatable antenna technology was invented by UA astronomy professor Christopher Walker, who is also the science principal investigator of the CatSat mission.
Tanner Campbell, an aerospace and mechanical engineering doctoral student who is serving as project manager for CatSat, said the project is a great chance for students to get hands-on experience building a spacecraft and running a space mission.
"It provides kind of a unique opportunity for students to get their foot in the door, as it were, because you still have to go through a lot of the same design and thought processes but it's at a much smaller scale," he said.
The project involves more than a dozen UA students spread across campus, he added.
"CubeSats have a little more flexibility because they are so cheap, so it's not like if you mess up, a billion dollars goes down the drain," said Campbell, who also worked on the OSIRIS-REx project. "They're still very expensive, but they're more doable to be done in-house at a university. A few professors can get together and pool resources to build one."
Vishnu Reddy, principal investigator of the mission and an associate professor at the UA's Lunar and Planetary Laboratory, said the inflatable antenna could allow small spacecraft to send large amounts of data across space.
"To get a lot of data, or to get any data back, you need to have an antenna and usually the farther you go, the bigger antenna you need to transmit and to receive signals from the Earth," Reddy said, noting that planetary research starts beyond Earth's orbit, on the Moon or relatively near asteroids.
The CatSat, which is about the size of a large cereal box, carries a compressed gas to deploy its inflatable antenna in a "bubble-gum" fashion, forming a sphere 3 feet across that sticks out from one side of the box.
An aluminized, shiny spot inside the inflated sphere will be used as the communications antenna to beam data back to a ground station located at the UA. The inflatable antenna will be used to transmit data at a transfer rate of about 50 megabits per second and transmit high-definition video in real time.
Though the CatSat could go up as soon as 2020, it will likely be at least mid-2020 or early 2021 before the UA team has its little spacecraft ready, Reddy said.
UA student teams already have built two space-ready cameras for the CatSat to transmit images of the Earth, he added.
Reddy said he approached Walker about using his inflatable antenna technology for a student-driven CubeSat demonstration, and he responded enthusiastically.
FreeFall Aerospace, a local small business co-founded by Walker to advance inflatable antenna technology (and profiled in Tucson Tech in October), also helped the project as an industrial affiliate.
Two engineering principal investigators — Roberto Furfaro, a professor in the Department of Systems and Industrial Engineering, and Jekan Thanga, an assistant professor in the Department of Aerospace and Mechanical Engineering — are leading the student teams who are building the spacecraft hardware.
Besides the UA's CatSat, a team from Arizona State University was picked in the latest NASA round to launch a CubeSat designed to monitor the activity of small M-type stars, or red dwarfs, to help study the habitability of their planets.
Under the same program, Embry-Riddle Aeronautical University in Prescott saw its EagleSat 1 CubeSat launch aboard a Delta 2 rocket during a NASA mission in November 2017.
That satellite experiment is designed to study orbital decay, the gradual decrease in orbital distance, as well as the use of supercapacitors — solid-state electronic components that store energy — in place of batteries. The craft is expected to stay aloft for seven to nine years.
Another Embry-Riddle project, EagleSat 2, was picked for the NASA CubeSat Initiative last year and is expected to launch to study cosmic rays later this year or in 2020.
Author: Neil Pearson
Link to article: https://tucson.com/business/tucson-tech-ua-inflatable-satellite-antenna-...