Nationwide Eclipse Ballooning Project (NEBP)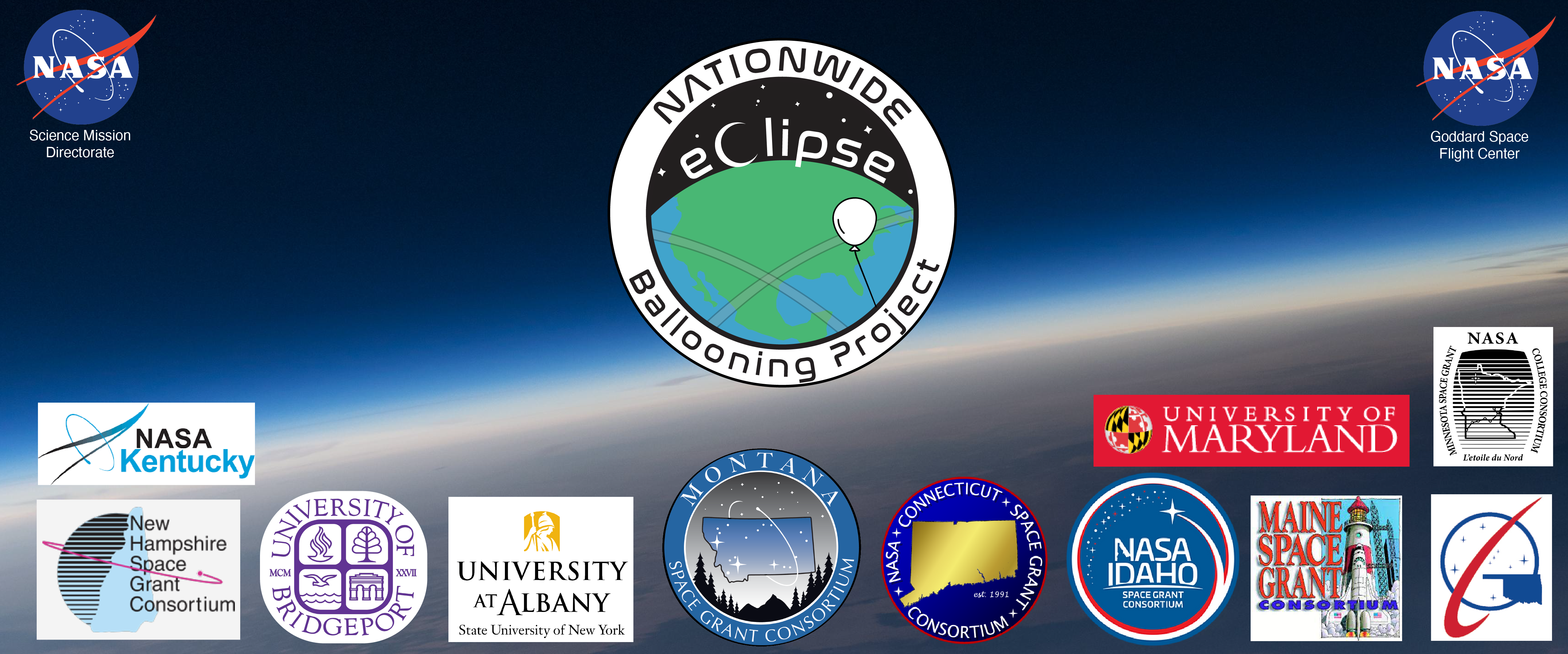 Overview
The Arizona Space Grant Consortium is participating in the Nationwide Eclipse Ballooning Project (NEBP). The NEBP project is led by Montana Space Grant Consortium, and it builds on the highly successful NASA and NSF-sponsored NEBP implemented during the 2017, 2019, and 2020 total solar eclipses. This new effort will broaden participation of STEM learners by immersing teams from a wide range of higher education institutions in an innovative NASA-mission-like adventure in data acquisition and analysis through scientific ballooning during the 10/14/2023 annular and 4/8/2024 total solar eclipses. At sites along the eclipse path, student teams will live stream video to the NASA eclipse website, use balloon-borne instruments to observe perturbations in atmospheric phenomena, and conduct individually designed experiments.
Please follow our eclipse story on Instagram for photos and updates on the project!
Our Arizona participating schools include:
Arizona State University
Casa Grande Union High School
Embry-Riddle Aeronautical University, Prescott
Phoenix College
The University of Arizona
Student participants have committed to the following:
(Highly encouraged but not required) Attend a June 5-9, 2023 Engineering West Workshop at Montana State University in Bozeman, MT. Full funding provided to attend.
Summer (tentative) August 2023: Weekend workshop in Prescott, AZ, to launch 2 practice balloons.
Must complete the NEBP Engineering Course Curriculum. This includes 16 fully virtual lessons and is expected to take 40 hours.
Commit to continuing this work for both the 2023 annular and 2024 total solar eclipse activities (full AY23-24 participation). Must not be a graduating senior before May 2024. 
Must promote diversity on the team, be welcoming, help recruit additional team members, and be a leader for the team in all aspects.
Be a good communicator and have experience with ballooning / be able to help others on the team with this project.
Work to analyze the data and publish the teams' work in a scientific journal and for NASA websites.
Annular Eclipse
Location of Balloon Launch: Roswell, New Mexico
Date: Saturday, October 14, 2023
Travel Dates: (tentatively) Thursday, October 12th – Sunday, October 15th, 2023
Total Solar Eclipse
Location of Balloon Launch: Uvalde, Texas
Date: Monday, April 8, 2024
Travel Dates: (tentatively) Friday, April 5th – Tuesday, April 9th, 2024
For more information on NEBP, please click on the following links:
Primary Goals of NEBP Participation
Design a 3-pound payload (9 pounds will be reserved for the equipment provided by Montana State University).
Conduct a scientific experiment onboard.
Utilize ground and balloon-borne equipment and supplies provided by NASA and Montana State University.
*Launch into the stratosphere (~100K feet above the Earth's surface) through the utilization of a helium-filled balloon, track the payload's live location with the Iridium tracking system, and recover the scientific payload in accordance with NOTAMS, Air Traffic Control, and FAA Regulations.
Present data analysis and results at scientific conferences.
Publish a finalized manuscript to peer-reviewed journals.