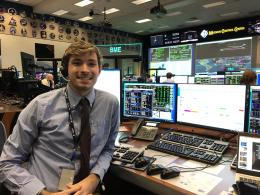 Update: We have an exciting update to share about one of our AZ Space Grant-Sponsored NASA Center Interns. Michael Klooster, a former Embry-Riddle Aeronautical University-Prescott (ERAU) student, was sponsored by ERAU Space Grant for a 2021 internship at NASA Goddard Space Flight Center. During his internship, Michael worked in the Electromechanical Systems Branch on a reconfigurable, modular rover to serve as a testbed for space application. Michael graduated in 2022 and we recently received an update from him letting us know he has started a position as a contractor with KBR working at NASA Johnson Space Center!
Michael works with the Artemis Crew Health Team as a Crew Health Integrator for Orion. Michael says, "I am training to be a Biomedical Flight Controller (BME) for the future Artemis missions (Artemis 2+). This includes providing the flight control team with operational and technical support for Orion's crew health hardware and medical operations…Things have been going very well, and I am learning so many fascinating things from my team and mentors here. I have been able to observe the ISS BMEs for multiple weeks as they support crew health from Mission Control Center (MCC) Houston. I was also able to sit in on-console in MCC during Artemis I to observe the flight control team as I prepare to join in on the next ones. I have also jumped in on a number of projects planning medical operations for Artemis 2 and beyond! I never would have understood my path without Arizona Space Grant!"
Congratulations, Michael.
Photo: Michael Klooster in Mission Control while observing the flight control team during Artemis I.