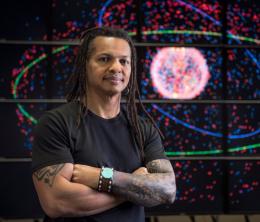 Moriba Jah is an Associate Professor of Aerospace Engineering and Engineering Mechanics at The University of Texas at Austin and Director for the Advanced Sciences and Technology Research in Astronautics program. Jah's research focuses on the convergence of policy, technology, and security related to space traffic management and space situational awareness.
He has taught undergraduate and graduate courses at UT Austin related to space and astronautical sciences. Jah has navigated several missions to Mars when he worked at NASA's Jet Propulsion Laboratory. He is a Fellow of the International Association for the Advancement of Space Safety (IAASS), the Air Force Research Laboratory (AFRL), the American Astronautical Society (AAS) and the Royal Astronomical Society (RAS), as well as an Associate Fellow of the American Institute of Aeronautics and Astronautics (AIAA).
He is an Associate Editor of Elsevier's Advances in Space Research Journal and also an elected member of the International Academy of Astronautics (IAA).