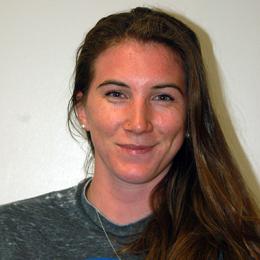 Alex, a geology major, worked with Dr. Justin Hagerty of the USGS, located in Flagstaff, during her internship at NAU.  She worked on "Placing new constraints on the unexpectedly complex formation of Meteor Crater", and subsequently was hired by USGS to work as a researcher post graduation.
She will go to Greece to conduct ground-breaking scientific research during her year abroad after receiving international grants from the prestigious Fulbright U.S. Student Program.  "I will be conducting research at the University of Athens on my project 'Bridging Land, Sea, and Space: Geologic Mapping of Santorini Volcano'," Huff said. "This project will draw upon the Santorini Volcano research I did through the NAU in Greece study abroad course and the Mars research I do at the USGS Astrogeology Science Center in order to promote scientific collaboration and understanding between the two countries and two scientific communities."
This highly innovative work will bring remote planetary geologic mapping techniques to the service of the submarine volcanism community to produce the first complete geologic map of a volcano in the Aegean Sea. Huff's project is important to the global goal of mapping the entire geology of the Earth's seafloor, which cannot be done by conventional means, and she will document her processes and methodology for future scientists. Her Fulbright experience will transition into a master's degree in volcanology and doctoral study in planetary mapping.
The Fulbright Program is the flagship international educational exchange program sponsored by the U.S. government. It is designed to increase mutual understanding between the people of the United States and those of other countries. During their stay, she also will serve as a cultural ambassador for the United States.