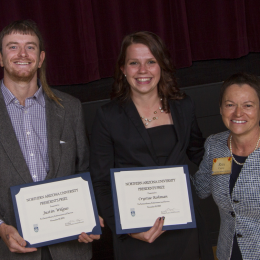 Monday, November 30, 2015
Dozens of NAU graduating seniors received honors in November of 2015, recognizing them for their contributions to Northern Arizona University.
Twenty-two students received the university's coveted Gold Axe Award for their achievements. Two of the winners— Justin Wilgus (2014-15 NAU Space Grant Intern) and Crystae Rohman —also received the prestigious President's Prize for their exemplary leadership, academic excellence and service to the NAU community.