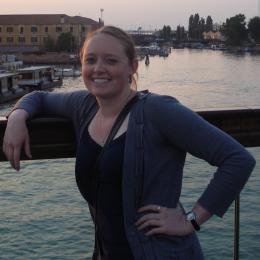 Wednesday, January 18, 2017
Kendra Kellogg is currently in her final year of her PhD at The University of Western Ontario in London, Ontario, Canada. She was a Space Grant intern for the 2009-2010 school year working with Dr. Lisa Prato at Lowell Observatory. During the summer of 2010, she was an intern at the National Solar Observatory in Tucson, Arizona as part of the Research Experience for Undergraduates (REU) program. Her experience in the Space Grant program led her to be hired on for the following school year as a research assistant with Dr. Lisa Prato and the subsequent work resulted in a published paper on a young, triple star system.
She completed her B.S. in Physics and Astronomy in 2011 and went on to complete a Master's at Stony Brook University in Stony Brook, New York, in 2013 before moving to UWO. She was an IPAC fellow from January through June of 2015 working at IPAC/Caltech on identifying old brown dwarfs in the Wide-Field Infrared Survey Explorer (WISE) catalog. Her current work at UWO was heavily influenced by her research experience as an undergraduate student. She now works on understanding the atmospheres of brown dwarfs via spectroscopy from large telescopes in Hawaii and Chile and data from large photometric surveys such as the Two-Micron All Sky Survey (2MASS) and WISE.