Mary Lara Honored with Viola Award for Excellence in Education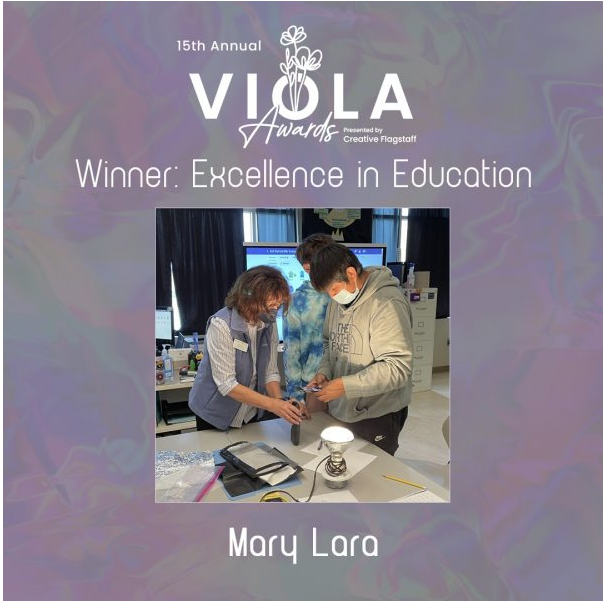 Mary Lara has taught and served the Flagstaff Community for over 40 years. Starting as a professional educator in Kindergarten, Mary has taught all levels of elementary education with an unbound passion in getting children to reach their full potential while encouraging discovery and a love of learning. During Mary's over four decades as a professional educator, she was instrumental in getting the first and only observatory at an elementary school in Flagstaff, Arizona. The Walker Observatory on the DeMiguel campus continues to meet the needs of elementary students and provides community programs to encourage the study of astronomy. In a quote from a local principal: "Mary made sure building relationships with students was in the forefront of her instruction"
Once an educator one is always an educator. Mary continues to volunteer for DeMiguel Elementary school as well as works for Northern Arizona University through a NASA Space Grant Program designed to encourage, teach and inform students in Northern Arizona on the fun, excitement and science of our solar system. The NASA Space Grant is a nationwide program, that not only works with college students but provides outreach to outlying communities. Mary provides outreach throughout Northern Arizona including and not limited to the Navajo and Hopi Reservations.
Besides meeting the needs of our local youth, Mary also works with other professional educators in Northern Arizona. Mary currently mentors' teachers, not only in instructional practices but in some of the daily educational tasks such as cutting, copying, and preparing all the hands-on materials necessary to be an effective STEM educator. While working for FUSD Mary spent three years working with the Arizona Career Ladder Program encouraging, advidsing and guiding teachers to become better professionals.
Today in 2023 Mary continues to work with local youth and schools, works for the Flagstaff Public Library, provides NASA Space Grant programs throughout Northern Arizona and is a role model to all educators.
Text from https://creativeflagstaff.org/viola/2023-viola-awards/