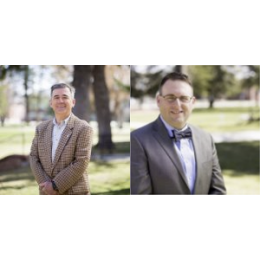 Thursday, April 27, 2017
NAU has a couple of Space Grant students who were selected as NAU Golden Axe awardees.  One is a past intern from 2015 (Kiril Kirkov) who was also awarded the Distinguished Senior Award in addition to Golden Axe. He will be attending Vrije Universiteit in Amsterdam for his PhD in migrant integration, transnationalism, and mobility. Based on his Stars for the Future project through the NASA Space Grant program, he developed a strong relationship with the STAR School, and the Navajo community.   He hopes to develop student exchange programs with educational institutions from the European Union.
The 2nd Golden Axe awardee is Kevin Gochenour who is a 2016 intern.  He will be attending medical school at UA in Phoenix in the Fall of 2017.
NAU honors President's Prize winners, Gold Axe recipients, Distinguished Scholars