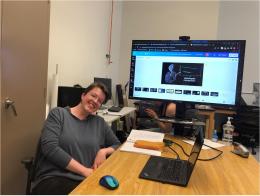 Student highlight! Claire Gibson is a rising Junior in Geology, Astronomy, and Planetary Science at Northern Arizona University. Claire was an NAU Space Grant Intern in AY21-22, working with professor Dr. Joshua P. Emery in the Department of Astronomy and Planetary Science. Claire's research project was titled, "Is there fine-grained material under the surface of Bennu?".
Read Claire's abstract below!
Identifying whether fine-grained material resides on the Surface of 101955 Bennu can better our understanding of
porous carbonaceous asteroids in the Solar System, and the properties and processes that compose these small
bodies. The purpose of the experiment undertaken is to identify whether fine-grained (<100μm) material resides
subsurface of Bennu due to the "rubble pile" characteristic of the asteroid. Thermophysical modeling and
visualization of the surface of Bennu at selected crater sites thought to uncover the subsurface material were
analyzed to identify whether changes in temperature across the surface of a crater indicate such material. So far,
analysis of craters does not indicate fine-grained material below the surface of Bennu. Future activities include
analyzing more craters of different sizes to gather a more extensive data set to identify whether fine-grained material
exists below the surface only in certain areas.