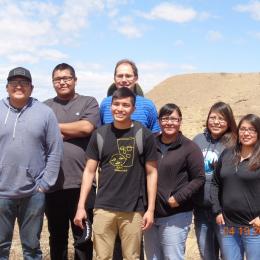 Friday, February 24, 2017
February 2017 update:
Diné Instructor/Mentor Francis Burns shipped his students' 2016 ASCEND radiation and GPS data to Marsha Bitsui at NAU. Marsha collaborates with Jani Ingram studying uranium content in reservation sheep tissue.  They are "Really interested in our [Diné] sensor data that indicates a radiation hotspot in the Sheep Springs area."  Kudos to Francis and team for producing valuable and timely radiation-related findings that can have important benefits and ramifications to the Navajo lands and people.
Original:
2016 AZ/NASA Space Grant ASCEND Team from Dine College after a successful payloads launch and recovery April 19, 2016.  Photo courtesy of ANSR.
Diné ASCEND team members presenting payload data results posters to their campus community on April 27, 2016.