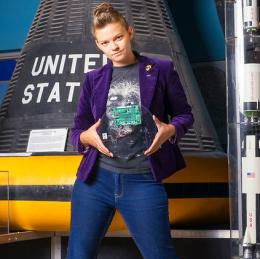 Tuesday, July 25, 2017
As part of Arizona Space Grant's RockOn program, Roslyn Norman participated through Pima Community College's Engineering Club and was featured in The Wonder Girl Project!
"The Club has opened up several opportunities that I have taken advantage of to include the NASA ASCEND and the NASA RockOn! Undergraduate research programs. I never imagined I would launch something into suborbital space (she launched a project into outer space on a sounding rocket at NASA's Flight Facility in Virginia) this early in my career. Playing a part on student engineering teams and becoming engulfed in the Tucson science and engineering community has given me a sense of belonging and a drive to create something profound for this world in the area of robotics and space exploration. I am currently working on a new prototype for the High Elevation Antarctic Terahertz (HEAT) Telescope project through the University of Arizona Steward Observatory Solar Lab. The telescope will ideally give us a better picture of our universe by processing frequencies beyond the visible light spectrum."
TheWonderGirlProject on Instagram
Patricia Fortlage Photography