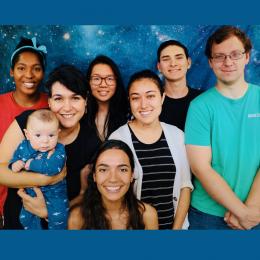 Thursday, October 11, 2018
"UA Astrobiology Lab Looks to the Stars for Scientific Answers to Life's Biggest Questions"
By Randall Eck - UA Daily Wildcat October 8, 2018
"Working with a team of graduate and undergraduate students, Kacar's UA lab is already well underway with research projects examining a series of key questions in astrobiology. 
'One big question in astrobiology is: If life exists elsewhere in the universe, should we expect it to be similar or different to us?' Kacar said. 
To address this question, Kacar is engineering bacteria to express ancient genes that are millions of years old and the predecessors of the proteins our bodies use today.  
Kacar says she plans to observe how these genes change or evolve in her laboratory conditions. Through these experiments, Kacar hopes to gain insights into how evolution might repeat itself. 
If the ancient genes of Kacar's bacteria evolve to resemble their modern structures, evolution may have limited possibilities and the life that develops on other planets is likely to be similar to our own. 
Kacar's laboratory is also studying the impact of the evolution of cellular machines, or proteins, on the carbon and nitrogen cycles on Earth and in its atmosphere. 
...
Cathryn Sephus, a molecular and cellular biology senior with a minor in astronomical studies, joined Kacar's research group this semester after being awarded the Arizona Space Grant in astrobiology. 
'Everyone in the lab has a particular background. I have experience with computer programming and bioinformatics. Our postdoctoral fellow Amanda Garcia has training as a geologist.Our newest lab member is focused on biochemistry,' Sephus said.
Astrobiology requires an interdisciplinary approach to scientific questions, Sephus said. That is one reason she was drawn to the field — it combined her love of molecular biology and astronomy in its research. 
Sephus thinks of astrobiology like a puzzle where you can start to ask really amazing questions about life elsewhere in the universe, and even about how it developed closer to home, after you have combined all the different pieces from the technology of the space race to our own chemistry. 
For Sephus, her research experiences have helped her contextualize and understand what she is learning in the classroom and has offered her a community of people who share her love of space and biology. 
'The Kacar lab is like a family,' Sephus said. 
Sephus recommends anyone interested in research talk with their professors and find a lab experience just as amazing as her own."