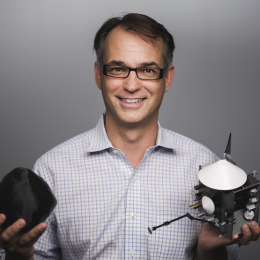 Tuesday, May 9, 2017
Dante Lauretta, OSIRIS-REx PI and 1992 UA Space Grant Intern, is the recipient of The University of Arizona's Alumni Achievement Award for his work on designing, building, and launching a spacecraft to visit the carbonaceous asteroid Bennu.
"The Alumni Achievement Award is the highest honor the UA Alumni Association can bestow on graduates of the University. It is given to an alumnus or alumna who has attained prominence in his or her field of endeavor and demonstrated outstanding service to the UA."
Dante Lauretta to Receive Alumni Achievement Award