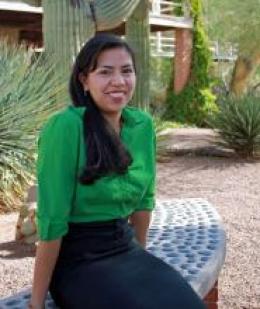 Thursday, December 15, 2011
FY 2009 Space Grant Intern, Denise Garcia, a first-generation graduate student, will graduate with a Master's of Science in ecology and management of rangelands from the UA's School of Natural Resources and the Environment. She is working in conjunction with the Arizona Bureau of Land Management and the Gila Watershed Partnership in assessing land cover change of Southeastern Arizona.
After graduation, Garcia hopes to pursue a doctorate degree and join the Peace Corps, and professionally, her interests are focused in the local efforts of sustainable management of the environment in Northern Mexico.