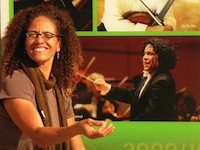 Deanna Lewis, co-sponsored by the College of Physics
Somewhere in between my current occupation as a physician assistant and status as an executive MBA student at the Eller College of Management was an invitation to work as a temporary research assistant in the department of physics: I took it. I soon found myself immersed in the world of Photovoltaics (PV). The immersion was swift, intriguing and a new world full of potential. The local enthusiasm and passion that abounds in the field of Photovoltaics produces at least one gigawatt of energy! To date I have had the privilege of working with Dr. Alex Cronin in the Department of Physics, and have been introduced to the research and innovations that are taking place at: the AZ Research Institute for Solar Energy (AzRISE), the Biosphere 2 Institute (B2I), the College of Architecture and Landscape Architecture (CALA) and the Tucson Electric Power Company (TEP). Within these collaborative partnerships I have found a niche in PV outreach and education. The program I've designed is called Science for Society.
Science for Society is a photovoltaic outreach and education field project designed to promote universal access to PV technology:
Promoting PV research and education through intergenerational learning
Increasing the PV workforce through professional development
Enhancing the visibility/profile of the TEP solar test yard
Distributing PV data acquired at the TEP Solar Test Yard
An interdisciplinary team composed of individuals from educational institutions, community organizations and industry businesses will facilitate an increase in public awareness for PV technologies, teach people how to best utilize PV technology and stimulate interest in the sciences through educational enrichment programs, fieldtrips, and experiential learning presentations/workshops. By leveraging the expertise of our strategic partnerships, the PV outreach and education field project will promote longevity and utility by creating a sustainable and replicable program through curriculum implementation, docent program development as well as establishing the TEP Solar Test yard as user-friendly site for students, homeowners, researchers, businesses and special interest groups.
The educational outreach component of this project is off to a running start. Over the summer I have been working with TUSD and the Inner Connection/Green Schools to implement a pilot PV curriculum for high school students. On August 19th, 2009, 14 students were enrolled in our Solar Technology class. The 9-week program is now offered at TUSD's Project M.O.R.E. located at 44o S. Park. The students are offered science credit for this introductory course and the district is currently in the process of assigning an official course code which will allow any of the TUSD high schools to offer the course. Our projections for year one is to offer the course in one school (done), year two-two schools, year three-four schools and year five-ten schools. We are also working on a phase-two which is a more advanced PV course geared towards installation. The goals of the curriculum implementation are to engage and educate high school aged students in the sciences utilizing a PV curriculum that prepares them to either enter the PV field directly and/or to pursue higher education in the sciences, facilitating a sustainable economy and viable workforce through renewable energy training and education. In October 2009 we will be meeting with a local solar energy company interested in underwriting the program for a three year period.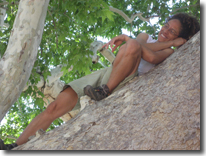 A collaborative field project with the U of A College of Architecture and Landscape Architecture (CALA), the Drachman Institute, and Imago Dei Middle School will enhance the TEP solar test yard in becoming a premier educational and solar test site. Improvement of the solar test yard site through regular maintenance, modifications and physical upgrades will allow the site to become more user friendly and facilitate an environment conducive to world-class research and learning thus increasing the utilization of the TEP Solar Test Yard via tours, workshops, demonstrations and hands-on activities. This integrative approach is designed to support the work of the U of A Department of Physics, AzRISE, B2I, and TEP. The students from CALA/Drachman Institute and the Imago Dei Middle School will embark on a joint venture to enhance the current layout and design of the TEP Solar Test yard. A "face-lift" of the TEP Solar Test yard with additional features will provide the public with an additional community solar resource center and increase the utility of the site. September 9th, 2009 was our official tour start date for solar test yard. The tours are offered weekly on Tuesdays from 9am -10am, RSVP is required.
This intergenerational field project will provide applied design concepts to enhance and increase the utility of the TEP Solar Test yard for students, researchers, homeowners and businesses. Further more it will support the initiatives of AzRISE, the U of A, TEP and B2I by increasing the status and visibility of the TEP solar test yard, elevating it to a more visible community solar resource test site with exceptional lab facilities for research and field projects, add a hands-on training facility for AzRISE's super courses, serve as regional and national training site for PV installation instruction as well as become the designated site for a PV Outreach and Education Docent Program through the U of A Department of Physics.
As coordinator for the PV Outreach and Education program my role is that of a facilitator: professional relationships between researchers, teachers, business owners and students are being developed to create and expand opportunities for professional development and intergenerational learning as well as promoting the utility and longevity of a solar technology infrastructure.
Fall 2010 Update
The past year has been an exceptional time for the growth and development of Science for Society. Having identified an additional opportunity for growth I am currently working with members of the community to develop an apprenticeship program for those interested in gaining valuable experience in PV installation as well as fostering the professional development for a qualified workforce in solar installation.