Graduate Research Fellows 2020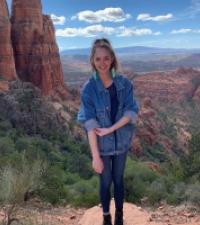 Lane Breshears
Hello! I am a second-year graduate student in the Department of Biomedical Engineering at the University of Arizona working with Dr Jeong-Yeol Yoon. Our lab develops and tests biosensors for medical and environmental health monitoring. My focus is the design and execution of lateral-flow-assays (LFAs) for virus detection in water samples. We have shown that you can get comparable results to traditionally expensive, time-consuming, and highly technical processes by using some 3D printed parts and a smartphone. Currently, I am working to adapt our smartphone microscope design for the detection of SARS-CoV-2 (COVID-19) from patient swabs. 
This research is highly relevant to the current climate, but is also very applicable to future needs, both on the ground and in space. Our method uses capillary flow in order to disperse the samples in a paper-based microfluidic chip. Capillary flow is gravity independent, so by developing these diagnostic tools on the ground, we are also setting up a device that could one day potentially be used by astronauts and explorers in space. 
I am passionate about introducing students to the STEM field. My research is a perfect example of a combination of many STEM fields, requiring knowledge of chemistry, biophysics, 3D modeling, fluorescent microscopy, and coding. As part of the UA/NASA Space Grant Fellowship I will work with a school in local Tucson, Arizona to introduce middle schoolers to the many facets of graduate school in Biomedical Engineering. Together we will be using the smartphone microscope to learn about antibody-antigen binding, improve our understanding of the tests being performed to detect COVID-19, and explore the exciting process of DIY science using fluorescence microscopy and 3D printing. We will explore the connection between the microscopic and the cosmic, relating the antibody COVID-19 tests discussed in the news to future tests that astronauts may perform one day. From puzzle piece chemistry (antibody-antigen biding) to artistic design (3D modeling), I hope to show students the wide variety of exciting problem-solving opportunities graduate students get to deal with every day. 
Learning is all about creating a space for curiosity to explore. I am thrilled and excited to use my research and the field of Biomedical Engineering to create that space for as many future innovators as possible.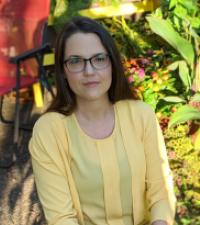 Zarah Brown
I am a 4th year PhD student in the Lunar and Planetary Laboratory, studying Saturn's upper atmosphere using data from the Cassini mission. I am a non-traditional student and got my first degree out of high school with a double major in biology and fine art. Years later, I went back to school to study astrophysics in order to pursue a career in planetary science. I am passionate about science communication and have completed a certificate in science communication here at the University of Arizona. I love those "aha" moments where a new understanding of the universe clicks and I want to help others have that same experience. A formative such moment for me was when I decided to draw the solar system with all the sizes and distances to-scale as a child. I quickly found that in order to do this I would need the better part of a ream of paper, leaving me with an intuitive sense of the scale of the universe that was awe-inspiring. My project aims to make this available for students and other members of the local community by erecting a to-scale model of the solar system along the mall from the East to the West end of campus. In conjunction with the model, I am designing a one-day undergraduate lab to bolster math skills and support students' understanding of the planets. By partnering with Flandrau Science Center, the model will also be used for outreach with k-12 classes.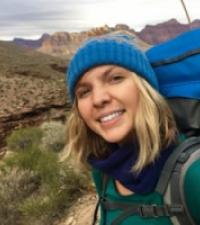 Dawson Fairbanks
I am a PhD Candidate in the Department of Soil, Water and Environmental Science. My work is rooted in microbial biogeochemistry and global change. Microbes are the unseen majority of biodiversity on Earth and are important to understanding ecosystem responses to climate change. Still relatively little is known about the functional redundancy and community interactions of microbes at the landscape scale. My research seeks to bridge the gap between microbiology and soil processes. I examine microbial distribution and responses to environmental perturbations, such as fire disturbance and pulsed precipitation dynamics. I work with the Critical Zone Observatory network to understand microbial processes in a multi-disciplinary, model-supported ecosystem framework. I am also committed to science education and outreach and participate in various community and K-12 outreach activities in Tucson.
My career path as an environmental research professional has been a winding one. Before I began graduate school to train as a microbial ecologist, I worked in land management with the Forest Service as a Wildlife Biological Science Technician. After graduating college, I worked as an Americorps service volunteer working on various restoration projects in the Southwest. My UA/NASA space grant project seeks to tell the stories of individuals who apply STEM knowledge in order to study, conserve and restore natural ecosystems. I aim to highlight the intersection between research advancement and applied science, showing how science informs land management practice and policy decisions to steer us toward sustainable solutions. In my experience, I have seen a fundamental disconnect in transferring science to environmental management and policy. My project will highlight the stories of young professionals who help society manage interactions between humans, the environment and the economy through video story-telling and in-person outreach. I am creating a video mini-series in coordination with UA Flandrau Science center that highlights the stories and varied career paths of individuals using science-backed conservation techniques to meet land management goals and inform policy. The second aspect of my project aims to distribute the video series by organizing various panel discussions and a Science Café Series that will also provide a platform for discussion on this topic.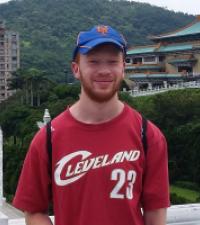 Michael Hammer
I am a PhD candidate in the Department of Astronomy, where I work with Professor Kaitlin Kratter on numerical simulations of planet formation. My research focuses on connecting telescope observations of protoplanetary discs by the Atacama Large Millimeter Array (ALMA) to hydrodynamic simulations in order to better understand the phenomena in these discs and how planets form.
With the NASA Space Grant, I am designing inquiry-based homework assignments for various astronomy courses during the year. During my PhD, the two outreach activities that have been the most important to me are Astrobites and the ISEE Professional Development Program (ISEE PDP). As an author for the graduate student-run Astrobites website, I have written two dozen summaries of recent research papers in astronomy with the goal of making the latest research more accessible to undergraduates. As a participant in the ISEE PDP, my team designed a full-day inquiry-based activity for undergraduate summer research students with the goal of having them learn about a topic in astronomy in a self-guided manner that resembles how scientists conduct research.
In general, many undergraduate courses lack the opportunity for students to learn in this inquiry-based manner. For my project, I will design homework assignments that give students the opportunity to learn in the same way as scientists conduct research, using Astrobite articles as a means for students to explore topics on their own. The learning goals of these assignments will be to have students learn the course material and to learn how to read scientific research papers.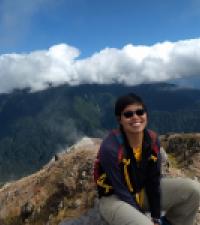 Diana Hsieh
I am a first-year master's student in the Department of Hydrology and Atmospheric Sciences. I am working with the Cooper Center to develop experiential science curricula for 5th graders. The Cooper Center is known for its hands-on research-based programs in science and earth education. It is more important than ever before to engage the next generation in STEM. The young inquiring minds of today will become the problem solvers of tomorrow, and there are a lot of problems to solve. By locally contextualizing issues including climate change, water scarcity, and species endangerment, we can spark curiosity and help it bloom into a passion for STEM. Whether it's through NASA's world-scale missions or field session in the Sonoran Desert, we strive to open up learning opportunities for our youth.
This project lies at the intersection of my passion for nature, and my desire to leave the world a better place than I found it. My experiences in the Peace Corps (Ghana 2011-2014) and at the EPA have only reinforced these motivations. I hope to continue advancing these values during my graduate studies as well.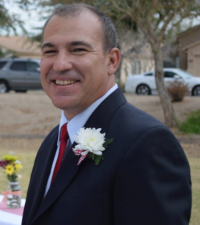 Matthew Katterman
I am a fourth-year Ph.D. student in the Department of Biosystems Engineering. In previous years, I attended the University of Arizona and received a BS in Chemistry in 1997 and an MS in Agricultural and Biosystems Engineering in 2004. During the last few years, I have been involved with the SBAR (Sustainable Bioeconomy for Arid Regions) Education and Outreach program at the University of Arizona. From 2017-2020, I assisted in organizing a biofuels camp and served a fellowship teaching middle school students the concepts of biofuels and farming as applied with the crops of guayule and guar. My Ph.D. research involves the irrigation management of guayule here in Arizona. In this capacity, I help apply the use of field sensors to monitor soil moisture content and water stress in the plants as well as apply an irrigation computer modeling approach called WINDS.
My NASA Education and Outreach project involves working with middle school-aged students from a local school in Tucson. There, I will be teaching them the concepts related to the Environmental Control and Life Support Systems (ECLSS) modules that are a part of the International Space Station (ISS). Much of the education efforts will be centered around science concepts that are a part of how the Life Support Systems operate in space. The education projects also take an approach of relating these science principles to real-world situations on Earth. For example, the science concepts of humidity control on the space station can also be applied towards preserving museum artifacts or preventing electrostatic discharge to electronic devices.