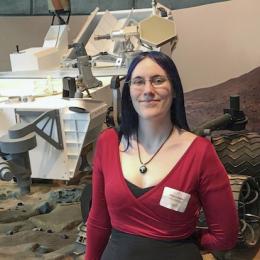 Wednesday, January 16, 2019
2019 Undergraduate Student Spotlight: Alexa Drew
"Alexa Drew is in her senior year at ASU, majoring in Earth and Space Exploration with a concentration in astrobiology, in addition to minors in political science and biology. As an Arizona native, she had always planned to attend ASU and was also encouraged by friends and family who also attended ASU and recommended the experience.
She didn't know though, right away, what her major would be. 'It took me a while to figure out what I wanted to do for a career, let alone my major,' explains Drew. 'You name it, I've probably considered it as a career, so it wasn't until my time at Mesa Community College that I realized that my interests were not only more STEM-focused, but specifically geared towards both astronomy and biology.' And so the astrobiology program at ASU's School of Earth and Space Exploration was a natural next step.
When asked about her time at ASU and the School of Earth and Space Exploration, she says that these have been some of the best experiences of her life. 'There is always so much going on at ASU, especially regarding research, that I think there is a niche for just about everyone, no matter their interests,' she says.
Drew also appreciates the diversity on campus and how that creates an empowering atmosphere where different ideas and backgrounds can come together to create something great. 'Innovation and creativity are always front and center at ASU, and almost every instructor or mentor I've had there has worked to foster those talents,' she says.
When asked about her favorite place on campus to study or just relax, Drew has several recommendations. She likes the quiet basement in the Bateman Physical Sciences H Wing and the conference room of the Engineering Center. She also likes the Bateman Physical Sciences F Wing tutor center where she can find classmates or an instructor to ask for help. To collect her thoughts, she likes walking around campus and the meteorite displays in the Interdisciplinary Science and Technology Building IV. 
Drew is also involved in extra-curricular activities and found one of the most rewarding experiences was being an ASU NASA Space Grant  scholar, where she worked alongside a faculty mentor on NASA related research. 'The skills I have learned through this experience will be with me for the rest of my scientific career,' she says. 'This has helped prepare me for graduate school, as have the many useful networking opportunities the grant sets up for students.'
She also appreciated the emphasis the ASU NASA space grant program places on diversity and engaging individuals from underrepresented groups in STEM fields. 'This has exposed me to a lot of different cultural backgrounds, ideas, and beliefs, which has been highly beneficial to my time as both a student and researcher,' says Drew. 'It's made my experience an empowering one too as I get to see so many women in the program with me.' 
After graduation, Drew plans to attend graduate school and work on a Ph.D., with the ultimate goal of working for NASA on their outer solar system missions. She is also interested in Earth-based science and would like to become involved in science policy related to climate change. 'I consider climate change to be one of the most pressing issues we as a species will be combating this century and I feel that we need scientists in politics now more than ever' says Drew. 
Drew says she is both excited and intimidated by her upcoming graduation this spring, but she feels ready for the next step and has made the most of her undergraduate experience. 'ASU is always there to help you succeed,' she says, 'and so I can safely say that I am proud to be a Sun Devil!'"