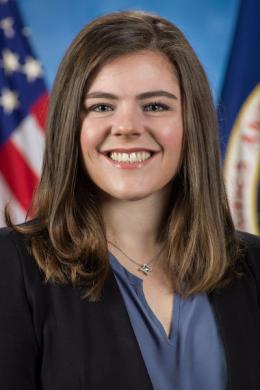 Friday, September 16, 2022
Meet Arizona Space Grant alum, Kathryn Chamberlin
Kathryn attended Arizona State University (ASU) for a BS in Electrical Engineering. During Kathryn's undergraduate career, she participated in the Space Grant undergraduate internship program from 2018-20, as well as a series of NASA Center internships. Upon graduating in 2020, Kathryn decided to pursue a graduate degree at ASU in Electrical Engineering.
Kathryn completed her graduate degree this August 2022, and upon graduating, received a full time position at the NASA Jet Propulsion Laboratory as an electronics engineer! We asked Kathryn if the Space Grant experience was helpful in pursuing her educational or professional career goals. Kathryn said "Yes! Because of Space Grant, I was inspired to pursue graduate school at ASU and worked on a research project that enabled me to be hired at NASA JPL."
Kathryn's story is inspirational, and we encourage all of our Space Grant students to pursue their dreams. Thank you for sharing, Kathryn, and congratulations on your new position.
Read a 2020 ASU Article featuring Kathryn: "Eventually, I want to work for NASA as a principal investigator for space science instruments," says Chamberlin."
As a third-generation Sun Devil, Kathryn Chamberlin bleeds maroon and gold. Knowing Arizona State University was the school for her was one thing, but knowing what to study was another. A visit to the ASU Tempe campus during her senior year at Arcadia High School helped put this future engineer on an exciting mission. 
In 2014, Chamberlin attended the Exploration Day at the Ira A. Fulton Schools of Engineering to help discover where her love of physics could lead her. Right away she was drawn to the electrical engineering presentation.  
"I really liked how diverse the major seemed," says Chamberlin. "For me, it was important to pick a major that was flexible and adaptable to lots of career options."
At ASU, Chamberlin shined in the classroom; she is known as a "bright light" by her advisors and faculty. But her work outside the academic setting is what made her a beacon for other aspiring engineers. 
As a frequent volunteer for the ASU section of the Society of Women Engineers and at ASU/NASA space grant events, Chamberlin was able to share her love of astronomy and engineering. 
 "It is important as a woman in engineering to support and inspire future engineers," says Chamberlin. "It is also important to show younger girls that engineering is accessible to them to continue to expand and diversify future workforces."
With four NASA internships under her belt, a year-long internship at General Dynamics Mission Systems, as well as time spent at The Boeing Company, Chamberlin is a perfect role model for students who are looking to the stars. 
During her time at NASA's Jet Propulsion Laboratory, she was tasked with developing designs for the Nancy Grace Roman space telescope. She spent a year learning about the instrument and conducting testing and design. In 2025, her work will be onboard the telescope as it heads into space. 
"I love that the designs I have made will fly in space," says Chamberlin. "It does not get any cooler than to think that my work will be orbiting the earth!"
While at General Dynamics Mission Systems and The Boeing Company, Chamberlin honed her management skills as project lead in product development groups. She brought those leadership skills to her roles as committee chair for the Society of Women Engineers and as a member of the Society of Women Engineers Bylaws Committee.
Most recently, Chamberlin was selected as one of 10 finalists out of more than 500 applicants to present in the Society of Women Engineers' WE20 Rapid Fire student research competition. Judged on presentation skills and content, Chamberlin earned the top undergraduate prize for her research on arctic ice management. 
Chamberlin is taking the route of the 4+1 accelerated program and will continue on to earn a master's degree in electrical engineering at ASU. Her long term goal is to return to her work at NASA.
"Eventually, I want to work for NASA as a principal investigator for space science instruments," says Chamberlin. "I want to build instruments that will change humanity's perspective of life on Earth and our place in the universe."