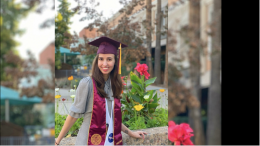 Wednesday, December 2, 2020
ASU Dean's medalist credits professors for her success
November 22, 2020
Editor's note: This story is part of a series of profiles of notable fall 2020 graduates.
Native Arizonan and graduate of Tempe Preparatory Academy, Elinor Sauer is the fall 2020 School of Molecular Sciences Dean's Medalist.  Elinor Sauer is the fall 2020 School of Molecular Sciences Dean's Medalist.
In December, Sauer will graduate, remarkably with double majors and minors, taking just four and a half years. She will graduate summa cum laude with bachelor's degrees in chemistry (environmental) and biological sciences, and with minors in sustainability and philosophy.
Sauer is ebullient in her praise of the "amazing professors who really fostered my love for learning" during her college career. A good number of them were women. It was Sauer's first ASU chemistry professor, Ashli Morgan, who helped her fall in love with and convinced her to switch to chemistry as a major.
The next year her organic chemistry professor, Smitha Pillai, showed her how to succeed with hard work that was met with encouragement and passion.
Sauer's current mentor, Professor Hilairy Hartnett, who holds a joint position in the  School of Molecular Sciences and the School of Earth and Space Exploration, helps her every day to better herself as a scientist.
"It can be intimidating to look at the statistics of women in STEM, and wonder what the future holds for me in this field," Sauer said. "I am very thankful to all of the women who helped shape my path. I hope to one day encourage another young scientist along her journey, just as these professors have for me."
"Elinor is a tremendous asset to the Carbon and Nitrogen Dynamics Lab. She's been my go-to person for the monitoring project in Tempe Town Lake for the last two years and she's done some fantastic new work as part of her honor's thesis to model ecosystem productivity in the lake using our high-resolution in situ data," Hartnett said. " She's always willing to lend a hand when there's something that needs to be done and is a first-rate young scientist." 
Sauer is also extremely effusive about one of her most pivotal undergraduate experiences. This was made possible by her success in winning two ASU/NASA Space Grants.
NASA Space Grant is a nationwide program funded by NASA. It is designed to develop the young minds of STEM graduate and undergraduate students into thinking beyond the classroom by actively performing NASA related research alongside a faculty mentor.
"Elinor has been a NASA Space Grant intern with me for several years. This competitive internship requires students to dedicate 10 to 15 hours a week to a research experience, complete science outreach hours at various times over the semester, and participate in a poster session each winter and present at our research symposium each spring," Hartnett said. "Elinor's science communication skills are excellent and she brings a sense of excitement about her work to her formal presentations that is infectious."
"Honestly, without the space grant I am not sure I would have had the courage to reach out and find my mentor (Professor Hartnett), and I certainly would have missed out on meeting some really interesting people in a wide array of majors," Sauer said. "It ended up being the perfect mix of independent research and community, and I have no doubt the skills I gained will be very helpful after I graduate."
Sauer is also to be congratulated on winning a Moeur Award. Named in honor of former Arizona Governor B. B. Moeur, the award recognizes students who graduate with a 4.0 GPA after eight consecutive semesters at ASU. An exception was made in Sauer's case. She graduated after nine semesters due to changing her major which resulted in her completing two degrees, both with minors. She has been a Barrett, The Honors College student and earned a 4.0 GPA while at ASU. She also won two School of Molecular Science honors: the Therald Moeller Award (2019) and the John Holloway Award (2020). Both these scholarships are privately funded.
"Elinor is both creative and hardworking – a combination that is sure to make her successful as she navigates her scientific career," Hartnett said. "She is rarely dismayed when the research does not proceed as planned; rather, she asks why things did not work and figures out how to change her experiment, or adjust her interpretations, to arrive at a conclusion."
Question: What was your "aha" moment when you realized you wanted to study the field you majored in?
Answer: I did not know immediately upon starting college where I wanted to end up, so my path was not quite so straight forward. I began as a sustainability major and absolutely loved the program and all the people within it. I planned to do a biology minor or double major, but upon taking General Chemistry 1 second semester freshman year, I fell in love with the subject — in part due to an amazing professor, Ashli Morgan. I'm not sure that was necessarily an "aha" moment, but in that class I really felt like I was able to refine my problem solving and logic skills in a way that appealed to me. That class led me to pursue concurrent degrees in environmental chemistry and biology.
Question: What's something you learned while at ASU — in the classroom or otherwise — that surprised you or changed your perspective? And why did you choose ASU?
Answer: I am from Arizona, so it is fair to say that a lot of my decision to attend ASU can be attributed to familiarity with the school and the benefits of in-state tuition. However, if I had to pick again, knowing what I know now, my choice would have little to do with convenience and much more to do with ASU as an institution; these four years here have shown me that there is so much possibility and potential at a school like ASU. It is huge and sometimes intimidating, but there are so many smart and friendly people that make it so easy to find where you belong. On top of that, the resources ASU has to support your research goals are incredible.
Question: Which professor taught you the most important lesson while at ASU?
Answer: Definitely my research mentor professor, Hilairy Hartnett. Not only is she incredibly knowledgeable in her field, she always went above and beyond for me as a student; supporting my work, encouraging me to apply for certain programs and always doing her best to ensure I was getting everything I could out of my undergraduate experience.
Question: What's the best piece of advice you'd give to those still in school?
Answer: Ask for help if you need it. In my experience, professors are thrilled whenever students take the time to ask questions or attend office hours. Even if you feel so lost that you don't even know what you don't know, ask questions. Doing this lets you really absorb the material and it can also open so many doors to build connections with professors that become invaluable when you want to do research or need recommendations.
Question: What was your favorite spot on campus, whether for studying, meeting friends or just thinking about life?
Answer: So on the east side of campus there is the very impressive Biodesign building. There are nice paths all the way around the building, and to the east of the building there is — I don't know exactly how to describe it — almost like a lower-level outdoor park? It is surrounded by trees and has steps that make a very good seat. It is on campus but just far away enough to be a peaceful retreat from all the bustle of students milling around. When it is not absurdly hot it makes a very nice place to get fresh air and watch for animals.