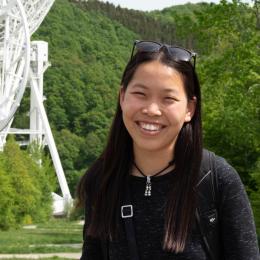 Bio: Whitler, a graduate of Desert Edge High School in Goodyear, is a junior majoring in physics and math.
Her research: "I work in the Low-Frequency Cosmology Lab. I thought about applying for the Goldwater Scholarship last year but I decided to get another year of research experience. I had a summer internship in Germany, where I was working with a radio telescope, looking at nearby galaxies and trying to understand cosmic magnetism. I just finished my honors thesis.
"My research is in a subfield of astrophysics called 21-cm cosmology, which uses a specific spectral line of hydrogen with a wavelength of 21 centimeters to probe the universe as it was a few hundred million years to approximately a billion years after the Big Bang. This era is called the Epoch of Reionization, or the EoR. The EoR is extremely difficult to observe — one team, led by ASU's own Professor Judd Bowman, has made a tentative detection, but it's the only one to date — due to challenges such as bright emission from our own galaxy and nearby galaxies, instrumental effects, Earth's ionosphere and more. My research focuses on one of these challenges, radio frequency interference (RFI). I work with data from a radio telescope currently under construction in South Africa, the Hydrogen Epoch of Reionization Array, to understand the effects of RFI on the measurement we are trying to make. In particular, I am trying to understand how errors introduced by RFI and RFI excision impact our ability to detect the EoR, and eventually, the goal is to understand how these errors might influence our estimation of astrophysical parameters during the EoR."
What sparked her interest in doing research at ASU: "I've known since middle school that I wanted to do research. I did a project in middle school on the periodic table. ASU is a huge university and I knew that this is definitely one of the best places to do research."
What's ahead: "I'm going to Harvard this summer for more research in a National Science Foundation-funded research experience for undergraduates. There are sites around the country and they send undergraduates to those sites for 10 weeks to do research with faculty. After graduating, the hope is to get a PhD in astrophysics."
What she does outside of the lab: "There are a lot of opportunities to interact with the public at things like homecoming and SESE open house and Night of the Open Door. I'm very big into science communication and outreach. I'm a member of the Society of Physics Studentsclub. At every outreach event we sit at a table and do physics demonstrations and we get to explain to children and adults what physics is. I am also an undergraduate mentor in the Sundial Project, an organization dedicated to fostering a diverse community in physics and related fields."